Councillor John Simmonds: Kent 'facing council tax rise'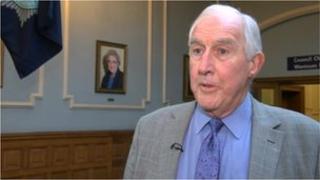 Council tax could rise for the first time in three years, Kent County Council's (KCC) finance chief has said.
Councillor John Simmonds said KCC was losing £35m in government funding and facing financial pressures in adult care and children's care.
KCC felt it had to raise council tax by 1.99%, which was about £10m, he said.
Opposition leader and UKIP councillor Roger Latchford said his group opposed tax rises but would support the move if there was no other option.
The government has offered councils a cash incentive to freeze the tax, with Communities Secretary Eric Pickles previously saying they had a "moral duty" to do so.
Mr Simmonds, cabinet member for finance, said: "For three years, we've managed to keep council tax frozen. Really, we're trying to look at our budget and we just can't do it for another year."
'At least 2,000 jobs lost'
Mr Simmonds said more than 4,000 people responded to a consultation and most wanted services for the vulnerable to be protected, with a small percentage against any form of increase.
He said KCC had balanced the budget with difficulty for three years, with the loss of at least 2,000 jobs.
"Basically we do need that extra £10m now to balance our budget because we see this going on probably for about two or three more years," he said.
Mr Latchford said the tax rise was currently a proposal and in the draft budget.
He said: "UKIP is opposed to all tax increases as a matter of form. However, we accept that if there is no other option we will have to support that."
He also said: "The council went out to public consultation and the majority of people who replied said they felt a council tax rise was the best option rather than a cut in services. We support the public in that view."