Police cleared over Canterbury pensioner arrest death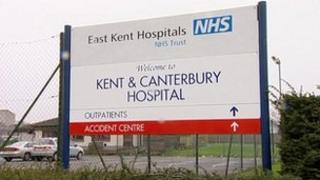 Kent Police officers have been cleared of any involvement in the death of an elderly man.
James Boland, 70, from Canterbury, died the day after he was arrested following a road crash last September.
He was arrested on suspicion of taking a vehicle without consent, driving without a licence and driving while disqualified, but was not handcuffed.
The Independent Police Complaints Commission found his contact with police did not contribute to his death.
Mr Boland died at the Kent and Canterbury Hospital on 24 September.
'Minimal contact'
Police who were called to the collision the day before found him already sat in an ambulance and refusing to go to hospital, a review by the police watchdog said.
Officers arrested him but did not handcuff or remove him from the ambulance.
Mr Boland was taken by ambulance to hospital, with a police car following behind, and officers stayed at the hospital where he died.
An inquest held on Thursday recorded a verdict of natural causes.
Kent Police referred the case to the Independent Police Complaints Commission (IPCC) which concluded that officers had "minimal contact" with Mr Boland and that there "was no indication that the contact contributed to his death".
A Kent Police spokeswoman said the force had no comment to make.