Yalding calls for £50m flood defences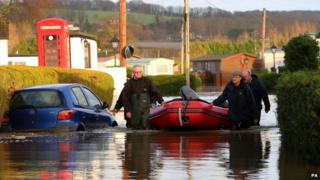 Residents of a Kent village where more than 200 homes were flooded over Christmas and New Year are calling for improved flood defences.
Yalding Parish Council wants the Leigh Barrier on the River Medway to be raised and a new River Beult barrier and reservoir built at Stile Bridge.
Chairman Geraldine Brown said the work was due to cost about £50m.
Kent County Council said it was working with the Environment Agency to put a flood defence scheme together.
Ms Brown said it would take six to nine months before Yalding was back to normal after storms which caused floods and power cuts across the county.
"The defences would be expensive but when you take the cost of the insurance claims, the remediation of people's homes and the police, the council response and the fire brigade it's not a lot," she said.
'Workable scheme'
Council leader Paul Carter said the Christmas floods were worse for Yalding than those in 2000.
He said the Leigh Barrier largely saved Tonbridge this time but agreed more defences were needed.
"There is a workable scheme and we need to find the money to make it happen," he said.
Environment Agency manager Andrew Pearce said Yalding was vulnerable because three rivers converged there.
He said that if the government approved the new defences it would provide only about 40% of the funding.
The rest would have to be found by the Environment Agency and the county council.
"It is about the private sector, public sector and agencies working together with the local community and that is what we will do," he said.