Joshua Charnley jailed for driving into petrol station manager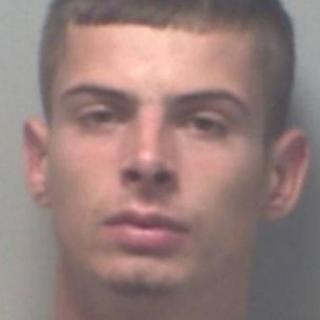 A teenager who drove into a petrol station manager and carried him down the road on his bonnet has been jailed for 11 years.
Joshua Charnley, 19, drove into Lekshmanan Asokkumar at the Texaco station at West Kingsdown, near Sevenoaks, on 31 July.
Mr Asokkumar, who was carried half a mile down the A20 before falling off, suffered brain damage in the attack.
Charnley was also banned from driving for 15 years at Canterbury Crown Court.
'Appalling case'
He was found guilty of causing grievous bodily harm with intent following a trial on Tuesday. He had previously pleaded guilty to fuel theft.
Crown advocate for the Crown Prosecution Service South East Martin Yale said: "This was a truly appalling case, with Mr Asokkumar left with severe head injuries, after he fell from the car.
"He has been receiving treatment for the injuries he suffered, which are likely to be permanent and which significantly impact on his life and those of his family.
"I hope it comes as some comfort to them that Mr Charnley has now been sentenced, after being found guilty of intending to cause those injuries."
During the trial the court was told Charnley had altered the car registration number with black tape and had no driving licence or insurance.
He used his Hyundai car as a weapon when Mr Asokkumar tried to stop him leaving the petrol station without paying for £39 of fuel.
Mr Asokkumar was forced on to the bonnet and carried down the A20. When he fell off he hit his head on the road and suffered a fractured skull and liver damage.
Charnley was also sentenced to 12 months in prison for theft, which will run concurrently.