Medway Council seeks 1.99% council tax increase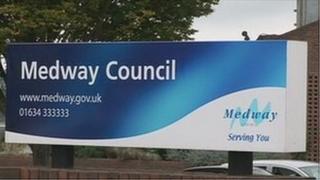 The average household in Medway will pay nearly £23 more in council tax annually if budget plans go ahead, the authority has said.
The proposed rise of 1.99% for 2014-15 is just under the government cap at which a local referendum must be held.
Medway Council said it would protect front-line services such as weekly bin and recycling collections, adult social care, children's centres and libraries.
Deputy leader Alan Jarrett said a "modest rise" was unavoidable.
He said the rise was needed if vital services were to be maintained.
"We have worked very hard to close the gap between what we receive from government and what we spend on our front-line services and we have come very close to doing that.
"We are currently left with a £94,000 deficit which we will be finding ways of closing between now and full council," he added.
'Poor deal'
The authority said it had only increased its council tax twice in the past four years.
It said council tax on an average band D property will increase by £23 per year if the proposed budget plans are passed.
Opposition Labour group leader Vince Maple said Medway residents were getting "a poor deal" and front-line services were not being protected.
He said: "We know that there have been cutbacks in the services provided in Sure Starts. We know there have been cutbacks in the services provided by adult social care.
"I don't accept the argument that there have been those front-line issues protected... they [the council] have put themselves in a position where the residents of Medway will feel that."
The Conservative-controlled unitary authority covers Rochester, Chatham and Gillingham.
The full council will make a final decision on the budget proposal later this month.