Kent Leigh flood barrier 'does not protect all homes'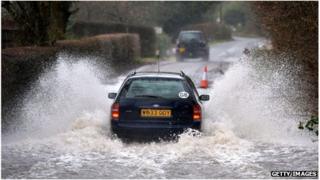 A barrier in a flood-hit part of Kent does not protect all the homes in the area and improvements to it may take 20 years, the Environment Agency has said.
Area manager Andrew Pearce said the Leigh Barrier was designed in the 1980s to protect Tonbridge and surrounding areas, but had "a finite capacity".
He was speaking at a public meeting in Hildenborough where it is thought more than 150 homes flooded over Christmas.
He said discharge from the barrier led to flooding in the Hildenborough area.
"We had been operating the Leigh Barrier through the peak of the flood and as a consequence of the size of the flood we took as much off the peak as we could.
"But the discharge from the Leigh Barrier still resulted in some properties flooding and some of those were in the Hildenborough area," he said.
He said the barrier could only store 5.5 million cubic metres of water (194 million cubic feet) and it could take two decades to make changes that would raise the capacity.
"On a big flood it's not enough to ensure that everybody is protected," he said.
'Extremely disappointing'
He said measures had been identified to improve the barrier as part of a nationally prioritised programme, but work was not expected to happen until 2035 unless other funding sources could be found to bring it forward.
Mr Pearce said the Environment Agency had agreed to work with the community to deliver a flood warning service to alert people about flooding from the River Medway, so they could take action to protect their homes.
Mother-of-two Sam Wilson, whose house in Leybank was flooded on Christmas Eve and who has not been able to return to her home, said it was "extremely disappointing".
She said further heavy rain had been forecast and residents now realised the barrier would not protect them.
Ms Wilson also said residents were signed up to the Environment Agency flood alert system but some did not receive warning messages at Christmas.
She said she had bought her home on the understanding there was a one-in-75-year chance of flooding, but now residents flooded at Christmas were on alert for repeat floods this week.
'River flow restricted'
The Leigh Barrier was built in 1982 to reduce the flood risk in Tonbridge by controlling the amount of water flowing through the town.
The Environment Agency said it provided some protection for communities downstream, such as East Peckham and Yalding, but that was not its primary purpose.
Three steel gates across the River Medway can be moved to let the river flow normally, or restrict river flow and hold water in a large storage area.
The agency said exceptionally high river levels from 21 to 23 December followed about 90mm (3.5 ins) of rain falling in the Upper Medway catchment area, and flood alerts and warnings were issued to areas hit by flooding at least three hours in advance, with Yalding receiving its first warning 46 hours in advance.
It said between 24 and 27 December, over 5.5 million cubic meters of water were held behind the barrier, and without the defences flooding would have been as bad as in the 1960s when Tonbridge High Street was under 2m (6ft) of water.
The Environment Agency said further public meetings were taking place in Tonbridge, East Peckham and Yalding in February.