Two new bosses for troubled Medway NHS trust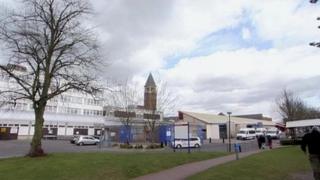 A hospital trust which was put into special measures has been forced by the health regulator Monitor to appoint an interim chief executive and chairman.
Last week the two people in charge of the Medway NHS Foundation Trust announced they would be stepping down.
The trust was criticised as failing and put in special measures following the Keogh Review in June.
It found the trust, which runs Medway Maritime Hospital in Gillingham, had major failings.
It was criticised for poor communication with patients, poor management of deteriorating patients, inappropriate referrals, delayed discharges and long waits in A&E.
'Challenged trust'
The hospital was later told by the Care Quality Commission it must take urgent action to improve safety on a maternity unit.
In November Monitor said the hospital's problems were broader than first thought and said it must take urgent action or face leadership changes.
Christopher Langley has now been appointed interim chairman and Nigel Beverley joins the trust as interim chief executive.
Stephen Hay, managing director of provider regulation at Monitor, said: "Medway is one of the most challenged trusts in the country and we believe that a change in leadership is essential for the trust to tackle the difficult issues that it faces."
Monitor said although the trust had made progress on some of the issues highlighted by the Keogh Review, it had taken further regulatory action because of "concerns over the trust's A&E performance, its deteriorating financial position, and its capacity to address the range of issues it faces".