Flood-hit Ericka Olivares confronts minister after PM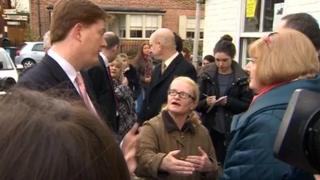 A woman who confronted David Cameron when he visited her flood-hit village in Kent has now also challenged government minister Danny Alexander.
Ericka Olivares told the chief secretary to the treasury about fears it could take 20 years to improve flood defences in Yalding.
The village has flooded at least four times since Christmas, with more than 200 homes affected.
Mr Alexander said he would ensure flood defence schemes were given priority.
"Until I see it I'll never believe it," said Ms Olivares, who met the Prime Minister on his visit to Yalding on 27 December.
She complained to Mr Cameron she still did not have electricity days after her home was cut off at Christmas.
Ms Olivares was waiting for Mr Alexander when he arrived in Yalding to meet residents in a public meeting set up by the Environment Agency.
Home insurance
Villagers are calling for two flood defence schemes at the Leigh Barrier on the River Medway and on the River Beult, estimated to cost £50m.
"We've been told it's going to take 20-odd years. What good is that to us?" she asked the minister.
She said residents had found it impossible to get their home insurance renewed at a price they could afford.
"It has a knock-on effect," she said.
"We can't go out to spend money in the local shops because we have got to replace everything."
Kent County Council and the Environment Agency are working on the two flood defence schemes together.
Mr Alexander said: "I will certainly make sure those schemes are worked up as quickly as possible and that there is no treasury barrier in the way of funding being made available as a central government contribution.
"These things are funded in partnership with local backers too, so we need that local funding to come forward.
"I will certainly go back to the treasury with a very clear view about the importance of making sure flood defence schemes like these are given the priority they deserve."