Dead whale spotted off Isle of Sheppey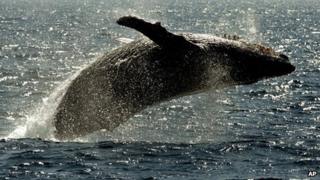 A dead whale has been spotted off the north Kent coast, marine animal rescuers have said.
The mammal, reported to be around 20ft (6m) long and either a humpback or sperm whale, was seen off the Shellness area of the Isle of Sheppey earlier.
Julia Cable, of British Divers Marine Life Rescue, said they were unable to reach the carcass, which has refloated.
"From what we can tell it is a humpback whale, but we haven't been able to get up close to it," she said.
"Hopefully, the coastguard will be able to locate the body and if they do the Zoological Society of London will take samples and conduct a post-mortem examination."
Both the humpback and the sperm whale species are occasionally spotted off the north and west coasts of the British Isles but are rarely found elsewhere in British waters.
Thames Coastguard said it had informed the local port authority and was waiting to see where the body was at low tide.