Two bidders picked to run debt-hit K College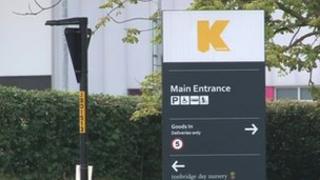 Two bidders have been chosen to run the five campuses of a Kent college which is millions of pounds in debt.
Eight organisations were shortlisted to take over K College, which is facing debts of £16m.
Hadlow College will run the Tonbridge, Tunbridge Wells and Ashford campuses while East Kent College will take over the Dover and Folkestone sites.
K College was formed in 2010 when West Kent and South Kent colleges merged. About 15,000 people study at its sites.
It was announced earlier this year that K College, which offers further and higher education and employs more than 1,100 staff, would be broken up.
'Commitment to students'
Hadlow College specialises in subjects such as forestry and agriculture.
Principal of Hadlow College, Paul Hannan, said: "Our ambition is to include the sites as part of the Hadlow College Group while building on the individual brand and status of each campus."
The new enlarged Hadlow College group will open on 1 August.
The management and governors of K College said they would continue to work with both Hadlow and East Kent colleges, local authorities and other partners to ensure the transfer completes ready for the start of the next academic year.
East Kent College is based in Broadstairs and offers a wide range of subjects including catering and hair and beauty.