Nigel Farage placard attack: Man admits UKIP leader assault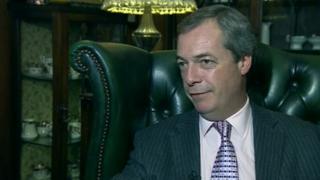 A man has pleaded guilty to assaulting UKIP leader Nigel Farage by hitting him with a placard as he entered a hotel.
Andrew Scott, 37, from Ramsgate Road in Margate, had been accused of assault by beating outside the Walpole Bay Hotel in Cliftonville, Kent, on 20 January.
Scott, who is unemployed, was arrested that evening after hitting Mr Farage, a UKIP South East MEP, on the head with a placard.
He told Margate Magistrates' Court he wanted to apologise to Mr Farage.
He said he had gone to the hotel to exercise his right to protest and had not meant to cause the politician any physical harm.
Scott was sentenced to complete 80 hours of unpaid work and ordered to pay £140 costs.
A UKIP spokesman said: "We are pleased to hear he has apologised for his behaviour and it is duly accepted."