ADL boss claims Maidstone 'closed to business'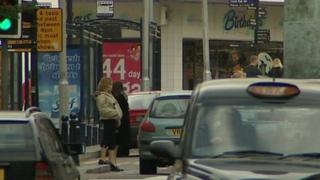 A company boss has claimed a Kent town is "closed to business" after plans for a new industrial estate were rejected by the local authority.
Automotive Distributors Ltd (ADL) and its neighbours Scarab Sweepers, and Gallagher Properties applied for permission to build the Waterside Park development in Maidstone.
Councillors voted against the scheme last month, citing the scale of it.
The authority said the scheme's design was wrong for the location.
The proposals for Waterside Park, on the outskirts of Maidstone, included manufacturing facilities, warehousing and logistics centres, and company headquarters.
'Don't want us'
Derek Edwards, ADL's regional logistics director, said the automotive parts company had planned to invest £20m at Waterside Park.
He said its site in the village of Marden, eight miles south of Maidstone, was no longer large enough.
"Our building is going to house many, many people, many, many jobs for 20 years," he said.
"How the council has come to reject this without making any recommendations is quite alarming.
"As far as I'm concerned, Maidstone sent out a message to business to say they are closed. They don't want us."
The firms intend to appeal against the planning decision.
Council spokesman Roger Adley denied that Maidstone was closed for business and said the council had to work with important businesses to try and help them "thrive and prosper".
"But it also has another obligation to the people of Maidstone to look after the countryside and ensure that development is in the right place," he said.