Rare Cameroon lamb born at Artisan Rare Breeds in Dartford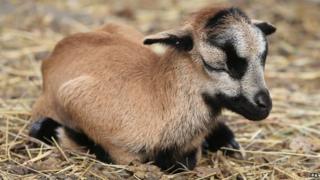 One of the world's rarest breeds of sheep has been born at an animal charity's centre in Kent.
The male Cameroon lamb weighed 1lb 4oz (0.57kg) when it came into the world at Artisan Rare Breeds in Dartford, Kent this week.
Wayne May, the charity's director, said there are just over 650 of the domesticated animals left in the world.
He said the unnamed animal's birth would go some way to helping protect the west African species.
Mr May set up the charity in 2011 with the aim of preserving and breeding rare and endangered livestock.
He said: "We are ecstatic because it's only the 661st in the world, and we are also set to see another two sets of twins born here.
"They are like a dwarf species and are extremely small because of the type of regions they are used to living in.
"They deal with extreme heat and a lack of grass."
He said the lamb would only grow to around 25kg (55lb) when it is about three.
"Unusually, this species are capable of lambing twice a year," he added.