Eurotunnel's Dover to Calais ferries 'can be banned'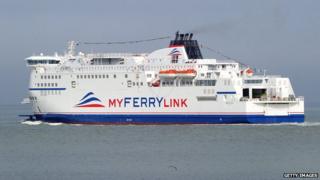 The Competition Commission has provisionally ruled that it has the power to ban Eurotunnel from running ferries between Dover and Calais.
Eurotunnel, which operates the channel rail tunnel, bought three ships from SeaFrance after it went bust.
They were used for Eurotunnel's MyFerryLink which began operating on the Dover-Calais route in August 2012.
The company challenged the commission's June 2013 ruling that its market share would lead to prices rises.
As a result, the Competition Appeal Tribunal (CAT) said the commission should reconsider.
The Competition Commission had been asked to decide if the purchase of the ships by Eurotunnel amounted to a merger under UK rules.
Eurotunnel said: "The decision of the Competition Commission is completely contradictory to that expressed previously by the French competition authorities."
'Price rises'
The commission said: "There was a considerable level of continuity between the former SeaFrance services on the Dover - Calais route.
"The combination of assets... enabled them to establish ferry operations more quickly, more cheaply and with less risk."
It said the ships had been "specifically configured" for the route and were operated by former SeaFrance staff.
A Eurotunnel spokesman said SeaFrance had been liquidated before it acquired the ferries.
"Groupe Eurotunnel cannot understand how it is possible to acquire a company six months after it has ceased to exist and nine months after the closure of all operations," a spokesman said.
He added: "Groupe Eurotunnel emphasises that over the past two years the market has in no way been negatively affected by MyFerryLink."
The Competition Commission is due to make a final ruling in May after inviting comments on whether there had been any "changes in circumstances" since the first decision was made.