Common snapping turtle abandoned in Dartford street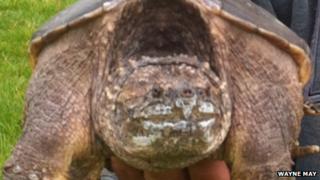 An animal conservationist wants laws on the sale of some rare breeds to be tightened after rescuing a "dangerous" turtle abandoned in the street.
A common snapping turtle, native to North America, was found in a box at the roadside in Hawley Road, Dartford.
The reptile, which is about 14in (35cm) long, is being kept at Artisan Rare Breeds, a Dartford-based charity.
Director Wayne May wants the creatures licensed because of the danger they can pose in the wrong hands.
Mr May said: "It can remove a finger from a small child, and a fully-grown one could cause serious damage to your hand.
"Their head can reach the back of their shell. No gloves are needed [to handle it], but I'd highly recommend no touching unless it's completely necessary."
He suspects the turtle was bought legally as a pet but has outgrown its environment.
'They eat anything'
"You can buy them in a pet shop, but they are more a specialist keeper's reptile," he said.
"It will stay with us because you can't rehouse it."
He said no shops in Dartford sold the turtles, which are still quite rare in the UK.
"I personally think they should be licensed," he added.
The turtle is only the second Mr May has come across in the past 10 years, and he said he would like to see the UK follow the lead of some US states, which have banned them from being kept as pets.
He said they were relatively cheap to feed because "they eat absolutely anything" but that it had cost the charity about £250 to build an environment suitable for long-term housing.