Kent MP concerns over mental health talks 'in cafes'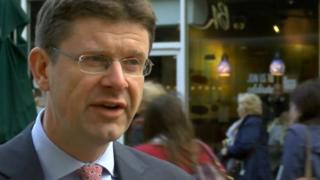 A Kent MP has raised concerns that staff from an NHS mental health trust have been pressurised into holding consultations with young people in coffee shops.
Greg Clark said he had received complaints from both the families of patients and the staff involved.
Sussex Partnership NHS said cafes were appropriate for some meetings but no-one would be forced to meet there.
The Tunbridge Wells MP has written to the health secretary about the issue.
The NHS trust runs services for young people in both Sussex and Kent.
'Privacy needed'
Mr Clark said: "I think it's a disgrace that any young person should have to sit in a public place like a cafe and discuss their mental health conditions with a clinical counsellor and an expert there.
"They should be in a proper consulting room in conditions of privacy."
But Angie Stevens, a spokeswoman for the NHS trust, said: "If we're working with someone who has a social anxiety and they're having cognitive behavioural therapy, part of their programme might be to support them to re-access public places.
"Therefore we might take them to a café as part of that programme. That would be entirely appropriate.
"It would be completely inappropriate to do a formal assessment or a mental health assessment in a public place, of course it would be."
Chris Lehman, from the young people's mental health organisation Young Minds, also said cafes were appropriate in some cases.
"It might be appropriate say as an introductory meeting, where a young person has not really engaged with children's mental health services before, and they might find going to a children's mental health unit really intimidating and frightening," he said.
"And actually in order to build that relationship between the mental health worker and the young person, it's best to meet in a situation where the young person feels comfortable."