Chiddingstone Castle in Kent to open as museum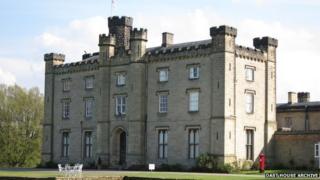 A castle in Kent will open as a fully accredited museum from 1 April.
The Grade II*-listed Chiddingstone Castle, near Edenbridge, dates back to the 16th Century.
It houses items including Japanese and ancient Egyptian artefacts, and recreated Victorian rooms.
Castle director Ali Ditzel said Arts Council England only granted accredited status to "a handful" of museums each year.
To qualify, they must meet standards on how they are managed, the services they offer and how they care for their collections, he said.
The museum's collections of Japanese, ancient Egyptian, Buddhist, Stuart and Jacobite artefacts belonged to Denys Eyre Bower, who owned the castle between 1955 and 1977.
The castle used to be a medieval manor house, but over the years it has undergone a number of architectural changes and served as base for military forces during World War Two.
The High Sheriff of Kent, Henry Streatfeild, rebuilt it to resemble a gothic-style castle in 1805.