Government help sought as Manston Airport faces closure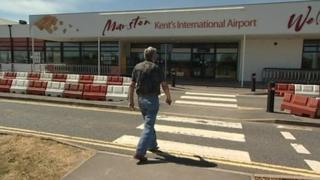 The government has been urged to step in over the threatened closure of Manston Airport after an offer from an unnamed buyer was withdrawn.
Up to 150 mostly part-time jobs were placed at risk last month when the airport revealed it was in talks over a possible closure.
Kent MP Sir Roger Gale told the Commons it was a significant blow.
The Leader of the Commons, Andrew Lansley, has pledged to raise the issue with Transport ministers.
Mr Gale, Conservative MP for Thanet North, said Manston was both a search and rescue facility and a location capable of taking diverted aircraft.
He revealed that a jet destined for Heathrow earlier this week had apparently run short of fuel and been diverted to Manston.
Mr Gales said he still hoped a buyer could be found for the airport.
'Flights suspended'
Mr Lansley said: "I'm sure the house will completely understand and endorse indeed, his view of the importance of regional airports, in this instance Manston."
He said the Department of Transport was well aware of the issue and would be continuing to talk to Mr Gale and the airport's owners.
Later, Mr Gale and South Thanet MP Laura Sandys met business minister Michael Fallon.
The two Kent MPs issued a joint statement which said: "If the future of the airport can be secured under new ownership we believe that very considerable practical support will be forthcoming from both the Department for Business, Innovation and Skills and the Department of Transport.
"Added to the backing of Kent County Council and Thanet District Council this adds up to a considerable force for success."
Mr Gale added: "It is clear that there is a considerable government desire to see Manston continue as an operating airport in the national interest."
In October, co-founder of the Stagecoach Group Ann Gloag bought Manston for £1 from the New Zealand company Infratil.
Since then it is understood the airport has been losing about £10,000 a day.
Dutch airline KLM has already announced it will suspend its Cityhopper flights between the airport and Amsterdam from 10 April.
In other developments on Thursday, the Unite union said airport workers had presented business plans to managers that could help ensure the airport's viability.
Unite said it had also asked the owners to extend the 45-day consultation, which is due to end on 11 May, so all options could be explored.