Killed Kent wife Anne-Marie Birch 'had multiple fractures'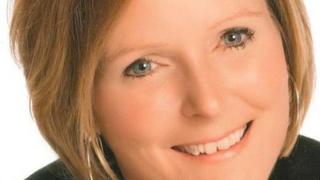 A woman who was killed by her estranged husband had been strangled and suffered multiple fractures to her face, Maidstone Crown Court has heard.
Lee Birch, 55, of Lymington Road, Westgate-on-Sea, has pleaded guilty to manslaughter but denies murder.
Pathologist Dr Simon Poole said Anne-Marie Birch had been strangled with a rope looped at least four times and tied with a knot.
Mrs Birch, 45, died in Broadstairs on 7 November.
The court heard the couple had been married for 17 years but last summer Mrs Birch told her husband their marriage was over.
'Severe force necessary'
Giving evidence, Dr Poole was asked how many times the rope had been looped.
"At least four times," he said. "It had then been secured tightly with a knot. When I touched her face there were multiple fractures and her nose was broken."
Prosecuting, John O'Higgins QC asked what level of force had been used.
Dr Poole replied: "Considering the fractures to the skull and face, I suggest a severe degree of force would have been necessary."
Jurors also heard that Mrs Birch had been stalked and harassed by her husband in the weeks before she died.
The court was told Birch had ignored two court orders to keep away from her and told police that it did not matter how many court orders were in place because he would break them.
The trial continues.