Winter Paralympics pair given surprise party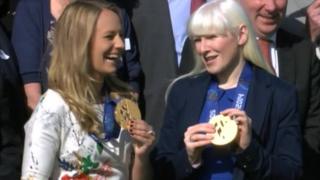 A surprise party has been held for skier Charlotte Evans who guided Kelly Gallagher to win gold for Britain at the Winter Paralympics.
Gallagher, from Chatham, Kent was invited with Evans to afternoon tea with the Mayor of Medway.
They arrived at Gun Wharf to meet Councillor Josie Ilesto and found many family members and friends waiting to greet them.
"Today is really special for us because its personal," said Evans.
"People here are really close to our hearts and they are people who have helped us in the good and the bad times. It is really nice to be able to thank them and let them be involved in our exciting journey with us."
Anglo-Irish relations
Evans won Britain's first ever Winter Paralympic gold medal with victory in the visually impaired super-G in Sochi. The pair clocked one minute 28.72 seconds on the Rosa Khutor course.
The skiers also met the Queen during last week's visit by Irish President Michael D Higgins to the UK.
"We're really good for Anglo-Irish relations - I'm from Northern Ireland, born in England, and Charlotte is living here in Kent," said Gallagher.
She said the Queen recognised them and asked to see her medal. "We spoke to her about it and we got to share the medal, as we are here today, with the Queen," she said.
Evans' father Pete said she didn't expect the party. "We have been telling her all day it is just us," he said. "I think it just blew her away when she walked in the door and saw all the people who had really helped her over the last 10 or 15 years."