Chatham shop murderers' silence leaves killing unexplained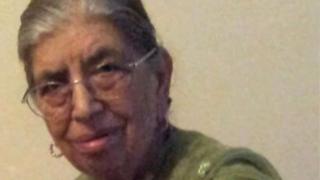 The family of a 69-year-old grandmother whose badly decomposed body was found in a shop basement have never been able to learn how or why she died because of a "wall of silence" from her killers.
Two men have been found guilty of murdering Harjit Chaggar whose remains were found under the floor at the Sani Globe Food Store in Luton Road, Chatham, Kent, on 14 September - 12 days after she disappeared.
Murshed Miah, 38, from Maidstone, and Mohammed Islam, 29, from Gillingham, were convicted over Mrs Chaggar's murder.
Miah, Islam, Abdul Hannan, 44, from Maidstone and Rasad Miah, of Chatham, were found guilty of preventing Mrs Chaggar's lawful burial.
Only one of the men gave evidence during the trial.
Det Supt Rob Vinson, from Kent Police, said the silence from the men meant he was unable to tell Mrs Chaggar's family exactly how and why she was attacked, thrown into the basement in the food store and then left to die.
'They are cowards'
He said piecing together what happened to her on the day was hard, he said: "We have not been able to give any closure because we cannot say why this has taken place and without those accounts and without those reasons being given by those that have now been convicted that makes it very, very challenging and very difficult for the family as well.
"I am not sure we are ever going to know the reasons and that is because those that were involved have chosen not to tell us."
Mrs Harjit's son Kuldish said of his mother's murderers: "They are cowards who picked on a frail, old woman - what more can be said?
"I remember my mum for what she was. She was a kind, gentle, outgoing person."
Mrs Chaggar, from Chatham, had gone to a day centre and the shops on the day she disappeared. Her son said it was just an ordinary day.
But she never returned home, instead CCTV images show her being beckoned into the Sani Globe Food Store by Islam, the only one of the four defendants to give evidence during the trial at Canterbury Crown Court, which lasted five weeks.
Nigel Pilkington, from the Crown Prosecution Service, said: "It is unclear as to the motive for what happened.
"I think it is clear it was a spontaneous act by the defendants, I don't think it was a planned murder."
He said some of Mrs Chaggar's belongings were missing and so the most probable motive was robbery.
Mrs Chaggar was due to visit her family in India on 20 September and was planning to start a foundation to help the poor but she never made it.
At the trial, the jury was told it would have taken two people to lift the hatch to the basement, which had no steps.
A post-mortem examination suggested Mrs Chaggar's injuries were consistent with being thrown down into the basement while still alive. Bobbie Cheema, QC, prosecuting, told the court her injuries were similar to those sustained in a serious road collision.
Mr Chaggar broke down in court when he described the moment he realised his mother was missing.
He told how he had tried to phone her and became concerned when she did not answer and then visited her house, which was empty.
After contacting friends, he reported her missing. He then retracted her footsteps, asking shop owners if they had seen her and whether they had CCTV.
He even visited the Sani Globe Food Store with a photo of his mother but was told she had not come in that day.
But, in reality, she was lying beneath the floorboards of the store, either already dead or dying.
He said: "We have lived in Chatham for over 40 years and my mum was known by a lot of people because she is friendly and outgoing, so we have no idea why this has happened.
"She was my mum and I miss her and think about her every day.
"The hardest part is the not knowing why and I don't think we will ever get closure."