M26 crash: Father of Kent pile-up victims also dies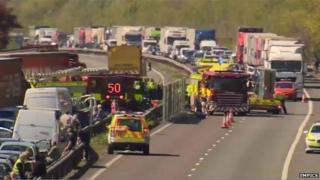 A third person has died after a crash on the M26 in Kent last month.
Police said a 54-year-old French man who was taken to hospital after the five-vehicle collision on the London-bound carriageway near Kemsing on 16 April, died overnight.
He was the father of Helen Bukola Akande, 22, and Mary Akande, 16, who died from their injuries at the scene.
Both were students and lived in the family home on the outskirts of Paris. All three were travelling in one car.
Seven others were taken to hospital, where a man and a seven-year-old boy are still being treated.
The man is recovering and the boy's condition was described as stable, police said.
Arrest followed crash
The crash involved two HGVs, a van, a Nissan car and a Mini.
Insp Martin Stevens said: "It is with great sadness that we report that the man died overnight in hospital."
A 45-year-old man who was arrested in connection with the incident remains on bail on 15 August.
Both carriageways of the M26 were closed for several hours after the crash.
The M26 links the M25 with the M20, joining London by road with the Channel Tunnel at Folkestone and the Port of Dover.