Peaches Geldof's home broken into twice, police say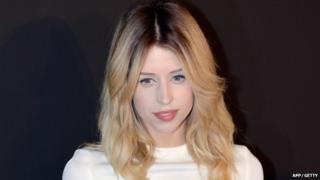 Peaches Geldof's home has been broken into twice by thieves since she died, police have revealed.
The latest break-in happened on Friday at the property near Wrotham, Kent Police said.
The thieves left empty-handed, but a lawnmower was taken in the previous burglary in mid-April, the force said.
Geldof, a writer and broadcaster, died on 7 April. An inquest into her death heard heroin "was likely to have played a role".
A police spokesman said that following the latest break-in, officers arrived within five minutes.
"Police are investigating a burglary at an address in Fairseat Lane, Wrotham, on 9 May," he said.
"No personal items are believed to have been stolen.
"Additionally, in mid-April a lawn mower was reported [to police] to have been taken from the grounds."
The body of Ms Geldof, 25, was found at the home she shared with her husband Tom Cohen, and sons, Astala, two, and Phaedra, one.
Her inquest earlier this month was told Mr Cohen discovered her slumped dead on a bed after she had recently taken heroin.
At the opening of the hearing in Gravesend, Det Ch Insp Paul Fotheringham said recent heroin use "was likely to have played a role" in her death.