Businessman in Manston bid 'tried to mislead court'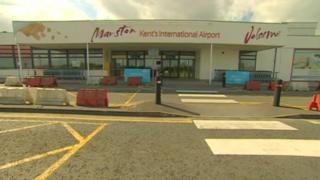 A businessman involved with the latest bid to buy Manston Airport in Kent attempted to mislead the High Court over his business dealings, BBC South East Today has learned.
Sanjeev Joshi has been described as an "introducer" - as he was the man who brought together the US investment company RiverOak and the owner of Manston, Ann Gloag.
Mr Joshi also attended a meeting at Manston with RiverOak executives and the local MP Sir Roger Gale.
A company run by Mr Joshi was liquidated in the High Court last year with the judge describing him as attempting "to mislead the court".
Earlier this month, RiverOak's bid to buy the airport was rejected, with Manston saying it had not received any "credible or viable" offers.
The airport is due to close at 17:00 BST on Thursday.
'Truthfulness or accuracy'
Attempts to buy Manston have turned into acrimonious arguments between local people and politicians who want to keep it open, businessmen who want to buy it, and the owners - who insist they want to sell, but who have rejected all offers so far.
A recent press release from Manston's owners said some of those associated with the most recent offer had "approached the shareholders previously" and have "consistently failed to substantiate their proposals".
Now BBC South East Today can reveal that one of the people involved in putting together the latest bid was heavily criticised in the High Court in London last year.
Sanjeev Joshi appeared in the Companies Court in February 2013.
His company, Integeral Limited, was being liquidated.
In the published court documents, the judge, Richard Snowden QC, said he did not have "faith in the truthfulness or accuracy of the evidence" by Mr Joshi.
He added that evidence to the court must be accurate true and reliable but Mr Joshi's evidence "demonstrably fails the test".
In the absence of a credible explanation, he said he was "driven to the conclusion that Mr Joshi's original evidence was untrue and a wholly improper attempt to mislead the court".
'Realistic offer'
Legal expert Joshua Rozenberg said: "From time to time a judge will come to the conclusion that somebody appearing before him is less than truthful and when appropriate will say so, and that happened in this case.
"Now what is unusual is that Mr Joshi to some extent brought this on himself.
"Yes, he was trying to rescue his company from being wound up, but he didn't need to go to court and he didn't need to get this pretty damning comment by the deputy judge against him in a public judgement."
Mr Joshi was working on the Manston deal with an associate, Daryn Soards.
RiverOak Investment's UK representative insists Mr Joshi and Mr Soards involvement did not scupper the deal.
Spokesman Tony Freudmann said: "As far as the deal is concerned they are simply the introducers, the facilitators of RiverOaks' introduction to the process. That's all."
He added: "I am not aware of either of these people's personal circumstances.
"As far as RiverOak is concerned, it's their bid.
"The bid was made in the name of their chief executive - that was made very clear - and that is the only issue. It's their money, their bid."
Future in doubt
Local Conservative MP Sir Roger Gale believes a deal can be done between RiverOak and Manston's owner.
At Prime Minister's Question Time in the House of Commons on Wednesday, he said the closure of Manston would mean the loss of hundreds of jobs.
He also told MPs that RiverOak had put in an "enhanced and realistic offer" on Tuesday night to keep Manston open, and urged David Cameron to encourage further discussions with the company.
Mr Cameron replied that the transport secretary would be contacting both Mrs Gloag and RiverOak, and that the government would do everything it could to help.
It later emerged that the deal had been rejected by the owners of Manston.
The airport is due to close on Thursday with both its immediate future and its long term future in doubt.
The BBC was unable to locate Mr Joshi for comment.