Ashford man tries to lure children into van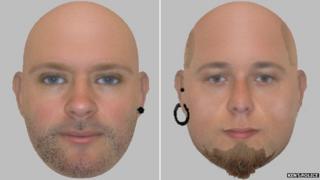 Young children have been approached by a man in Ashford asking them to get into his van, police said.
Two e-fit images of the suspect have been released by Kent Police, who are linking three separate incidents.
An eight-year-old boy and two eight-year-old girls were approached on 29 April in Bybrook Road and Beecholme Drive.
He also approached a group of children in Manor House Drive on 8 May. None of the children were touched or harmed.
Det Sgt Andrew Bidmead said: "We've made a number of enquiries and are following a number of leads and would like to hear from anyone who may be able to identify the man in the e-fit images.
"Fortunately children are taught about the 'stranger danger' and how to stay safe and have reacted very sensibly to these incidents by saying 'no' and running to tell an adult they can trust."