Strood commuters rescue woman from track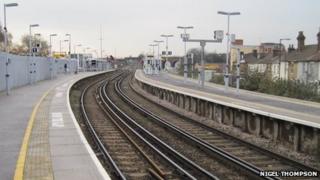 Two commuters have rescued a woman who fell on to rail tracks at a station shortly before a train was due in.
The woman, thought to be in her 60s, tripped and fell at Strood station in Kent just after 06:00 BST.
Commuters alerted station staff who contacted the advancing train, while two men jumped on to the track and got the woman clear.
She was taken to hospital with a suspected broken ankle. Southeastern has launched an investigation.
A spokesman for the train company said: "Although their actions (the two men) were commendable, we would never encourage passengers to get onto the track themselves and they could be in real danger.
"The first port of call is to alert station staff to the incident and they can get the power turned off on the track."