Canterbury 'fundraising risk' for hospice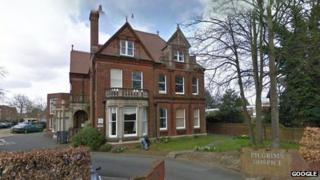 A Kent charity risks losing the support of fundraisers if it continues with plans to close hospice beds, the local MP has said.
Pilgrims Hospice wants to close its Canterbury inpatient ward and offer care in patients' homes and hospitals.
"If this vision isn't acceptable to local people they won't fundraise for it," said Julian Brazier, Conservative MP for Canterbury and Whitstable.
Chief executive Steve Auty said the hospice was listening to the concerns.
About 500 people attended a public meeting on Friday chaired by Mr Brazier but a number then walked out.
They said they were "disgusted" and "angry" because the decision to close the inpatient ward appeared to have been made without consultation.
'Emotional attachment'
The charity, which receives 75% of its funding from the community, has an annual £1m deficit.
It has purpose-built hospices in Ashford and Thanet but the Canterbury building is said to be no longer fit for purpose.
Mr Brazier said the hospice was important to Canterbury.
"It's one of our most popular and most loved and valued institutions," he said.
Mr Auty said Friday's meeting was an opportunity for the trustees to state their case.
"Understandably, there is a lot of emotional attachment to our beds in London Road and the trustees will need to consider and reflect on what we heard at the meeting," he said.
"The hospice movement has always been about a philosophy of care, not about buildings.
"We are trying to take care out to where people need it, be it in hospital or in our hospices or in patients' own homes."
He said fundraising was a concern but the charity's remit was to provide care across East Kent.
"That is why we are continuing to talk to people across the area - not just in Canterbury," he said.