Queen's Baton Relay comes to Kent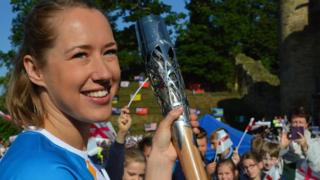 The Queen's Baton Relay has been visiting Kent as it tours England ahead of the Commonwealth Games next month.
Two of Kent's most famous sports personalities have been at the centre of the celebrations - Olympic champions Dame Kelly Holmes, from Tonbridge, and Lizzy Yarnold, from Maidstone.
Other baton-bearers were chosen for their vital lower-profile contributions to the county's sporting scene.
The baton visited Tonbridge, Herne Bay, Dartford, Folkestone and Maidstone.
Dame Kelly Holmes, who comes from Tonbridge and won gold medals in the 1500m in the Commonwealth Games in both 1994 and 2002, said: "The sun has come out and great crowds. It's great to see the enthusiasm for the Queen's Baton Relay.
"It's helping give some focus for the Commonwealth Games which are really important.
"The children can use this in school - learning about countries and nations and learning about the sports.
"They are the ones we can continue to inspire."
The relay will end in Glasgow, for the opening of the games, on 23 July.
Thursday is day six of the relay through England, with it already having visited Manchester, Sheffield, Birmingham, Plymouth, Bristol and Hampshire.
Previously it has toured the 70 Commonwealth nations and territories, before travelling through the Channel Islands, Isle of Man, Northern Ireland and Wales.