Increase in Kent road crashes breaks downward trend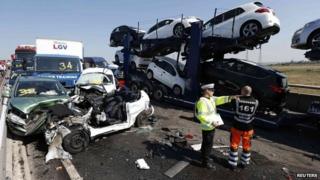 The number of people killed or seriously injured on roads in Kent and Medway increased for the first time in a decade, new figures reveal.
Department for Transport figures show the number of crashes rose by 13%, with 650 people killed or badly injured compared to 572 in 2012.
Kent Council said the Sheppey Crossing crash and more motorbikes on the roads during last summer's hot weather was partly to blame.
Crashes fell by over 50% since 2000.
Council cabinet member David Brazier said that while the figures were a "concern", the downward trend was expected to continue.
He said the council aimed to reduce casualties by a third over the next six years through investment in safety campaigns and road improvements.
Kent Police said motorists needed to pay more attention when driving on roads.
Sgt Hannah Brown said: "The fact that 95% of all serious collisions were in some way caused by human factors shows the importance of all road users committing to road safety".
The pile-up on Sheppey Crossing in September involved 130 vehicles and left 8 people badly injured.