Canterbury Pilgrims Hospice closure plans abandoned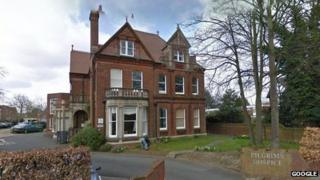 A charity has abandoned plans to close hospice beds in Canterbury because of the strength of public feeling.
Pilgrims Hospice planned to close its inpatient ward and instead offer care in patients' homes and hospitals.
However, it prompted an 18,000-signature petition against the proposal.
"We listened to the clearly expressed views of local people and recognised a desire for a change in emphasis in our plans," the charity said.
"Please give us the time, patience and understanding that we now need to establish how we can achieve our common aim of maintaining beds in Canterbury as well as in Thanet and Ashford."
'Keep supporting hospice'
A Facebook page set up by the campaigners also attracted 13,000 "likes".
Campaigner and former nurse Abi Calder, said: "I am elated for so many different reasons, for the nursing staff, for the volunteers, but mostly the public who will benefit from keeping this wonderful place, it is amazing."
Canterbury MP Julian Brazier urged the public to keep supporting the hospice.
He said: "It is now very important we support the hospice and that all those people who have generously given of their time and money and supporting fundraising continue to do so."
The charity, which receives 75% of its funding from the community, has an annual £1m deficit.
It has purpose-built hospices in Ashford and Thanet but the Canterbury building is said to be no longer fit for purpose.