Row over Kent and Medway infant school class sizes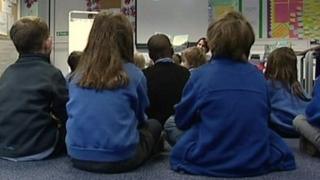 A "watering down" of regulations has led to more children in Kent and Medway being taught in classes of more than 30 pupils, a Labour councillor says.
Department for Education statistics reveal 879 children were in such classes in January 2010, rising to 3,037 four years later.
Classes for infants - aged from four to seven - have a limit of 30 children, although exceptions are allowed.
The government say the latest figures illustrate "permitted exceptions".
In Kent, 816 infants were in classes of 30 or more in January 2010, rising to 2,718 in January 2014.
In Medway, the number rose from 62 to 309.
Tristan Osborne, a Labour councillor on Medway Council and PPC for Chatham and Aylesford said; "The Conservative government watered down the school admission regulations allowing... class sizes over 30.
"The regulations indicated 'under exceptional circumstances' for a 12-month period only.
"We've seen an increase in class sizes, without the funding going to the right schools."
'Adequate provision'
Mike O'Brien, a Conservative councillor on Medway Council, said; "We have four schools in Medway where we have more than 30 pupils, with one more in each case.
"None of them are not 'exceptional circumstances'.
"The exception is Cuxton where we have Department for Education permission because we are putting in a new classroom for September," he said.
"We have taken every step we need to do to ensure that not only is there is adequate provision at the moment, but that we are taking care of future provision."
A spokesperson for the Department for Education said the average infant class size had risen "only marginally" from 27.3 to 27.4, although there was a "significant pressure on school places as a result of demographic trends over the last decade".
The spokesperson insisted local authorities would receive a total of £5bn to spend on new places over the current Parliament and this had already led to the creation of 2,600 primary school places in Kent since 2010.
Free schools that tended to have smaller classes were also being set up with five already opened in Kent, the spokesperson added.
The legislation over maximum sizes for infant classes was introduced in 1998 by the Labour government.
In 2012, the coalition government's new admissions code allowed the limits to be exceeded so that twins may be admitted to the same class or children of service personnel may be given a place.