Strood Celine Dion fan silenced again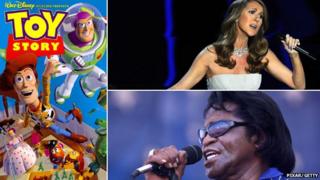 A man who repeatedly blasted out Celine Dion's My Heart Will Go On has had his music equipment seized for a second time.
The man, from Strood, Kent, had thousands of pounds worth of equipment seized in April after breaching a noise abatement notice six times.
It was given back 28 days later but was seized again after he played songs by The Smiths and Vanilla Ice.
Medway Council said the man made his neighbours' lives a misery.
In April, equipment including a 3D TV, laptop, speakers, PlayStation 3, docking station, 32 DVDs and a number of CDs were removed from the man's house.
Prosecution considered
In addition to the Titanic ballad, the man was heard playing James Brown's Love Machine and the theme tune to Toy Story.
After his equipment was returned, the man in his 40s blasted out songs including The Boy With The Thorn In His Side by The Smiths and Ice Cold by Vanilla Ice.
Council officers have now removed equipment including speakers, an iPod docking station, and a 50-inch television from his property.
A Medway spokesman said the authority was considering a prosecution under the Environmental Protection Act.
Magistrates could decide to destroy the equipment in the future, he added.
Peter Hicks from the council said: "Noise can be a big problem for neighbours and that is why we take action so quickly on these matters.
"Nobody deserves to be subjected to noise and we are determined to stamp out this sort of behaviour."