Elmley Prison staff take action after officers assaulted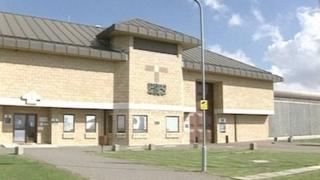 Staff at a prison in Kent have been working to rule after two prison officers were assaulted by an inmate.
Kent Police said they were called to Elmley Prison, on the Isle of Sheppey, on Saturday afternoon.
Mike Rolfe, from the Prison Officers Association, said staff had withdrawn their labour for a few hours on Sunday due to growing safety concerns.
The Ministry of Justice denied staff had walked out and stressed the prison was operating as normal.
Mr Rolfe, who also works at the prison, told BBC South East, that staff had walked out at 08:30 BST.
He said they would be working to rule for 48 hours or until they had received "appropriate assurances" that safety would not be compromised.
Kent Police said its inquiries into the incident were continuing.