Medway Maritime Hospital appoints new boss Philip Barnes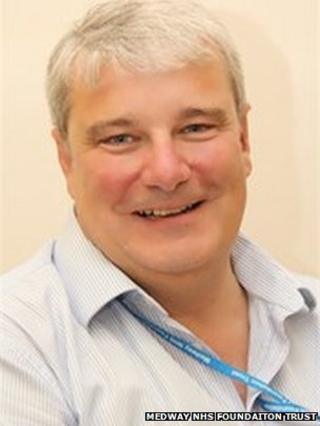 A new boss has been appointed to run a Kent hospital trust which was put into special measures last year.
Dr Philip Barnes, currently medical director of Medway NHS Foundation Trust, is to take over from interim chief executive Nigel Beverley.
The trust said Mr Beverley, whose contract ends shortly, has other commitments which prevent him staying.
The trust is also to begin a partnership with University Hospitals Birmingham NHS Foundation Trust (UHB).
Mr Beverley was appointed at the same time as trust chairman Christopher Langley, whose pay package came under fire this week when it was revealed he received almost £200,000 a year to work one or two days a week.
Tracey Crouch, Conservative MP for Chatham and Aylesford, said the deal was "obscene".
Dr Barnes said his own salary would remain unchanged at just over £200,000 a year.
"My salary is that of a consultant at the top of the scale, and I receive a clinical excellence award and a management allowance," he said.
He said his priorities were to provide stability for the trust, which runs Medway Maritime Hospital, and embed clinical leadership into the organisation.
"We know that organisations that are run by doctors and nurses tend to be more successful than others," he said.