Police investigate Kent and London mosque visits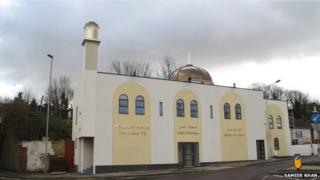 Police investigations have started in Kent and London after three mosques were targeted by a far right group.
Kent Police is investigating after members of Britain First visited two mosques in Gillingham to oppose plans for a new place of worship.
Members also went to a mosque in Crayford, south-east London on Sunday, and demanded the removal of signs for separate entrances for men and women.
Britain First, led by Paul Golding, has yet to comment.
Films of the encounters were posted online.
A Metropolitan Police spokesman said: "We can confirm police were called at approximately 13:15 on Sunday, 13 July, to Crayford Mosque, in Crayford High Street to reports of a disturbance.
"The incident is being investigated by detectives from Bexley Community Safety Unit to establish whether any offences have been committed."
The force said it carried out raids at addresses in London on Sunday and Monday, but no arrests were made.
Officers confirmed a man in his thirties voluntarily attended a police station on Wednesday afternoon. He was questioned under caution and released.
'Flat caps'
The Nasir Mosque and the Jamia Mosque in Gillingham were targeted on 26 June.
Video footage also shows members of Britain First visited the Kent Muslim Welfare Association, which is behind an application for a new mosque in the town.
Its spokesman Anwar Khan said: "At about three o'clock somebody knocked on the front door.
"There were six people with green jackets and flat caps and they said they wanted to come in.
"I said no, you can't come in, I don't know who you are."
He said the group forced their way in through the main door, but were stopped from going through a second door.
"They were making videos, at the same time swearing, and saying we heard you're building another mosque and we really resist that," he said.
Kent Police said: "Officers are making enquiries to establish the circumstances around the incidents and whether any criminal offences have been committed."
The Right Reverend James Langstaff, Bishop of Rochester, said he thought Jesus would have been "affronted and outraged" at the targeting of the mosques.
"Not least because Jesus tended to take the side of people who were in the weaker position," he said.
"When people are vulnerable and frightened, they are in that weaker position."
Britain First has yet to respond to a request for comment.