Thanet beaches opened despite sewage discharge concerns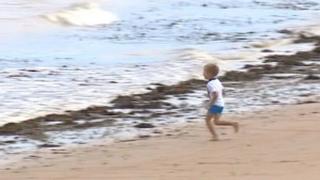 The beaches around Thanet have been re-opened despite claims that sewage from Monday's pumping station discharges could still be found in the sea.
Swimmers had been advised to stay out of the water between Walpole Bay and Dumpton Gap after storm water was released from two pumping stations.
Thanet District Council said the ban on entering the water had been "lifted with immediate effect".
Locals claimed that waste from the sewage was washing up on the shore.
Thanet Borough Council erected signs on beaches on Tuesday telling swimmers not to enter parts of the beach below the high water mark.
The Environment Agency said tides had helped disperse waste while ultraviolet light from the sun would also clean the water.
However, Kevin Godfrey, who runs a cafe in Palm Bay, said he had found more waste from the sewage washing up on the beach than he had seen on Tuesday.
He said his business had lost trade because of the state of the water which had left the beaches "empty".
Southern Water, who run the pumping stations, had claimed the discharges were of "heavily diluted" storm water that had been released "a long way off the shoreline".
Geoff Loader, director of communications at Southern Water, said the plant had "operated within the environmental guidelines" by releasing water to prevent local flooding.
The council has said it was looking to meet with Southern Water representatives to prevent similar episodes in the future.
However, Mr Loader has warned that any change to the way the stations work would involve a high engineering cost.
Thanet District Council previously warned swimmers about entering the sea in the area in May following a discharge of raw sewage.