Wheelchair-bound Kent boy reaches Snowdon summit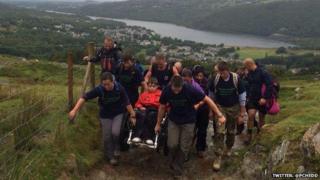 A boy who uses a wheelchair after suffering a spinal tumour has climbed Snowdon with the aid of 20 Metropolitan Police officers and his parents.
Jacob Rafferty, 11, from Halling in Kent, has raised more than £2,300 for the charity Spinal Research.
He has been paralysed and unable to walk since the age of eight, but used a specially-built mountain-climbing wheelchair for the challenge.
Jacob reached the mountain's peak in two hours and 50 minutes.
Paul Chedd, one of the police officers with him, tweeted that "despite the terrible weather" it had been a "great effort".
'It was great'
Jacob was accompanied by his parents, Emma and Adrian, who are both in the Metropolitan Police Territorial Support Group, and his nine-year-old sister, Jessica.
Mrs Rafferty said: "The weather was awful, freezing and heavy rain but we loved it and everyone was smiling."
Jacob added: "This has made us want to do something more challenging next year. It was great."
Another member of the group, Jon Levine, tweeted: "Fantastic day on #Snowdon for @SpinalResearch with an amazing family Jacob & Jess were awesome proud to be involved."
Later this month, Jacob will undergo an operation to insert metal rods in his spine to help him grow straight, which will have to be changed as he grows into adulthood.
His parents said they were optimistic about the future.
The family travelled to Wales on Friday ahead of the challenge.