French nationals jailed for cross-Channel trafficking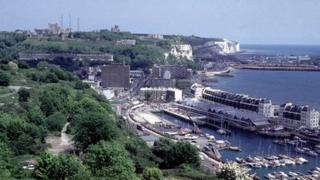 Two French nationals have been jailed after smuggling four illegal Afghan immigrants into the UK in a car boot.
Didier Andre Robert Devos, 36, and Sandra Mirelle Evelyn Vienot, 28, arrived in Kent on a Calais-Dover ferry and claimed to be visiting for the day.
Border officials searched their car and found two men, a woman and a seven-year-old girl, all from Afghanistan.
Devos was jailed for four years and Vienot for two. Both were convicted of trafficking at Canterbury Crown Court.
Police said unemployed Devos, of no fixed abode, and Vienot, from Grande-Synthe, Dunkerque, were driven by financial greed and had no regard for human life.
Det Con Matthew Whitlock said: "This was apparent by the poor condition that their victims were in when they were discovered in the pair's car boot. People were disposable to them."
When the pair arrived at Dover Eastern Docks on 30 June, they told officials they were visiting the local area and would be returning to France later that evening.
When the car was searched, the four illegal entrants were found and taken to the Dover Asylum Screening Centre.
It was confirmed three of them - a 28-year-old mother, 30-year-old father and their daughter - were from the same family.
The fourth person - a 55-year-old man - was unrelated to the other three Afghan nationals.
The sentencing on Friday took place amid heightened concern about the number of migrants, mostly from Africa and the Middle East, trying to reach the UK from Calais by crossing the English Channel.
The mayor of Calais has called for a reception centre to be set up.