Fire damages University of Kent building in Canterbury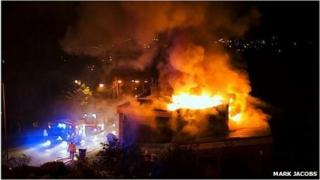 A fire has partially destroyed the Catholic Chaplaincy at the University of Kent.
Crews were called to the building on St Thomas Hill, in Canterbury, at 02:30 BST.
About 20 firefighters tackled the blaze on the first floor. Kent Police led two women away from the fire and no-one was injured.
Officers do not yet know how the fire started. An investigation into the cause has begun.