Folkestone hotel asylum seeker decision 'made by contractor'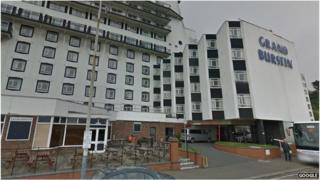 A move to bring more than 100 asylum seekers to a hotel in Folkestone was made by contractors and not the government, an MP has said.
Damian Collins MP, who represents Folkestone and Hythe, said he was told this by the minister in charge of asylum, James Brokenshire.
He said he was reassured the asylum seekers would move within two weeks.
They arrived at the Grand Burstin hotel after complaints that 600 migrants were crammed into a South London hotel.
'No access to services'
In his blog, Mr Collins wrote: "The minister has made clear that the asylum seekers will not have access to local services whilst they are staying in Folkestone.
"Any that need urgent health care will be moved to an asylum seeker centre to receive it, rather than being treated here.
"Their subsistence will be covered by the Home Office, and our local councils will not be asked to provide any support to them."
He added: "The decision to bring the asylum seekers to Folkestone was not made by government ministers, but by contractors who work for the Home Office who made the booking directly with the owners of the Burstin hotel."
Of the 130 migrants who came to the hotel, 30 have already left, he said.