Dover blockade: Police action aims to keep port open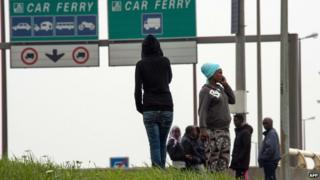 Police will take action against anyone trying to block the Port of Dover in a protest over illegal immigration concerns, a senior officer says.
The group Support the Calais to Dover Truckers wants to mount a blockade on Saturday to highlight problems faced by drivers crossing from France.
Ch Supt Steve Corbishley said police wanted to enable peaceful protest but allow the port to remain open.
Organisers of the protest said everyone would behave in a lawful way.
Drivers travelling from Calais to Dover face regular and sometimes serious confrontations with stowaways, according to the Freight Transport Association (FTA).
Kent Police expect between 150 and 200 people, including some with their lorries, to take part in a four-hour demonstration on Saturday,
Ch Supt Corbishley said: "We will be quite clear in preventing disorder, and we will be quite clear in preventing any person - or group of people - that try to prevent people who go about their lawful business.
"Indeed, if that is to use vehicles then we will seek to prevent that and we've got adequate provisions to address that if that situation arises."
In a post on its Facebook group, Support the Calais to Dover Truckers said a group of lorry drivers would be joining the protest from France.
It also stated: "Tomorrow will see us prove all the doubters wrong with a lawful protest with no abusive language and no drunken yobs and then we expect a full apology or we will be taking our next protest to people's front doors."
About 2,000 migrants have gathered in Calais in the hope they can make the crossing to Dover.
Natalie Chapman, head of policy at the FTA, said the answer to the problem of stowaways was to "put pressure on the government to speak to EU countries".
A Port of Dover spokesman said its primary concern was the "safety and wellbeing of our customers and community and keeping the port and its operations open".
A group of suspected illegal immigrants were discovered in Millyard Way, Dover, at about 09:20 BST on Friday, according to Kent Police.
A spokesman for the force said 12 people were detained and handed over to the Home Office immigration enforcement team.