Enfield Expo Foods fined over horsemeat sausage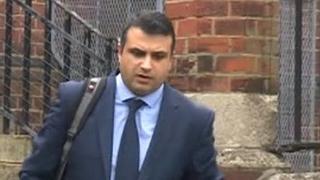 A food import company has been fined £5,000 after sausagemeat that was supposed to be pork was found to contain nearly 50% horsemeat.
Kent trading standards officers found the Bulgarian-cured sausage during spot checks in Dartford last year.
Expo Foods Ltd, based in Enfield, London, admitted breaching the Food Safety Act before Dartford magistrates.
The company said it had been a bad batch. The court heard the firm had not tested the food it supplied.
The company's managing director Ozgur Yilmaz declined to comment after leaving court on Thursday.
Expo Foods has since withdrawn the product from sale while working with Kent County Council and the Food Standards Agency and has made changes to its supplier network.
'Real problem'
After the hearing, Richard Strawson, from Kent trading standards, said officers were concerned the product was found on sale.
He said: "We are aware of the sensitivities amongst the public concerning eating horsemeat and therefore feel our actions were necessary."
Food analyst John Griffin said tests revealed the sausagemeat contained 46% horsemeat.
He said: "That's a significant amount of horsemeat.
"Considering there was no horse indicated to be present in the food at all, the public were not aware if they ate this product there would be horse present. So it's a real problem."
The company was also ordered to pay £2,500 costs.