Duchess of Cornwall visits brother Mark Shand's old school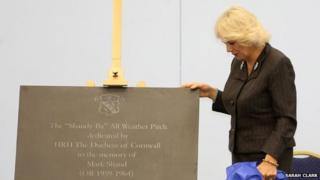 The Duchess of Cornwall has visited her brother's old school to dedicate an all-weather pitch to his memory.
Camilla is thought not to have been to St Ronan's School in Kent, attended by Mark Shand, for more than 50 years.
Mr Shand, 62, who was known at school by the nickname Shandy-Ba, died in New York City in April when he fell and hit his head on the pavement.
The conservationist and writer was chairman of the Elephant Family, which works to protect the Asian elephant.
The pitch, which is still under construction, has been named Shandy-Ba.
Dedicating it at a school assembly, the 67-year-old royal told pupils: "Wherever Mark is today, he would be so proud that this all-weather pitch has been named after him.
"I think he would be rather surprised too because although he adored Saint Ronan's - and said it was the best school he'd ever been to - he didn't like school very much afterwards.
"This is where his love of sport started, he adored cricket.
"I'm told he was very good-tempered - at home he had a foul temper and chased both me and my sister round the garden with his cricket bat."
Headmaster William Trelawny-Vernon described Mr Shand as a sporty pupil who had captained the cricket and rugby teams during his time at the school from 1959 to 1964.
It is believed one of the last times the duchess visited Saint Ronan's was to take part in a sister's race on school sports day in 1963.
The day and boarding prep school, for children aged between three and 13, was founded in 1883 and is based in a Grade II-listed mansion in Hawkhurst,