Manston Airport protest held as Thanet talks continue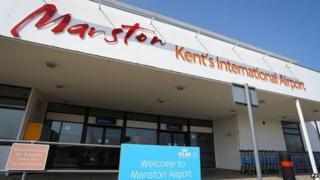 Campaigners fighting to save a defunct airport after the site was sold to developers have staged another protest.
About 100 people gathered as Thanet council's cabinet studied a progress report on Manston Airport on Thursday.
The report said the council took steps in July to find a third party to back a compulsory purchase order (CPO) - with the aim of keeping the airport open.
But it said the council then heard the site had been sold for development on 23 September.
As part of the council's potential CPO bid, the authority was still in talks with one potential partner and also the government, which had identified Manston Airport as a national asset, the report said.
It said following the news the site had been sold to regeneration specialists Trevor Cartner and Chris Musgrave, the council still had to meet the new owners to further understand what was planned.
But even if the authority identified a partner, this did not mean a CPO would go ahead, a Thanet District Council spokeswoman said.
It would need to look at the economic viability of the site operating as an airport, demonstrate a compelling public interest case and show the proposal would contribute to the economic, social or environmental wellbeing of the area, she said.
Plus, the current owners had their own proposals for the site.
'Manufacturing future'
Manston Airport was bought for £1 by Ann Gloag, co-founder of the Stagecoach Group, last October, but was closed five months later with the loss of 150 jobs.
Mr Cartner and Mr Musgrave, part of the consortium behind the nearby Discovery Park in Sandwich, bought a majority stake in the former airport's site for an undisclosed fee last month.
They said they planned to develop the site for manufacturing, housing and schools.
They also said the 20-year, £1bn redevelopment would create more than 4,000 jobs.