Harriet Harman visits Rochester and Strood ahead of by-election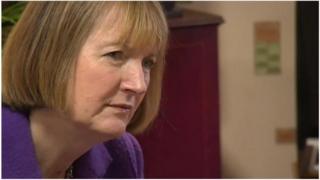 Labour's deputy leader Harriet Harman said her party was "not tackling a UKIP factor", as she visited Rochester and Strood ahead of the by-election.
The current MP Mark Reckless defected from the Conservative Party to UKIP last month.
Ms Harman was campaigning for her party's candidate Naushabah Khan ahead of the 20 November vote.
Prime Minister David Cameron and UKIP leader Nigel Farage have already paid visits to constituency.
Ms Harman is the most high profile Labour politician to have visited during the by-election campaign.
She said: "I don't think we're tackling a UKIP factor or a Farage factor, we're basically listening to what people's concerns are and actually acting on them.
"If people are concerned that employers are employing people who are newly arrived in the country at lower terms and conditions, then that does worry people."
Tory defector Douglas Carswell recently became the first UKIP candidate to be elected to Parliament.
Like Mr Reckless, he was previously a Conservative MP and retained his Clacton seat earlier this month.
The full list of candidates announced so far can be found here.
The Conservatives said they are holding an open primary to select a candidate for the by-election.