Armed thief robs same Kent post office two weeks after release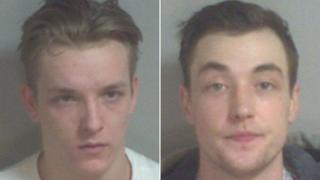 An armed robber sent to prison for holding up a post office targeted the same premises two weeks after being let out on licence.
Billy Williams, 22, from Springfield Road, Chelmsford, first robbed the post office, in St Mary's Bay, near Dymchurch, Kent, in July 2010.
He pleaded guilty at Canterbury Crown Court to a second robbery, in which he stole £10,780 on 15 February 2014.
He was sentenced to seven years in prison.
'Lack of remorse'
His accomplice, and brother-in-law, Harry Powell, 23, from Coast Drive, New Romney, was sentenced to 20 months in prison after also pleading guilty.
Kent Police said the pair ran into the store at 09:30 GMT and demanded money from the cashier. The woman said the man was brandishing what appeared to be a handgun.
She was ordered to open the safe and the pair escaped in a Ford Escort with £10,780 in cash and £2,565 worth of stamps.
Det Sgt Scott from Kent Police said: "That Williams would target the same post office, and the same cashier, he had robbed three years earlier shows an incredible lack of remorse."