Ed Miliband visits Rochester and Strood ahead of by-election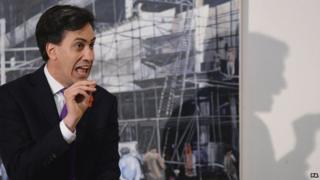 There is one main issue dominating this by-election campaign so far - immigration and how to tackle it.
Following David Cameron's visit to the constituency last week, the Labour leader Ed Miliband made his first visit to this by-election battleground today.
Like Mr Cameron before him, he chose to focus on immigration and said a Labour government would immediately bring in an immigration bill and insisted people's fears can be addressed without risking Britain's EU membership.
Mr Miliband said the UK "needs stronger controls on people coming here and we also need a crackdown on employers who use immigration to undercut wages".
He said the measures he was proposing could be introduced without EU reform, but also stressed that he was in favour of "achievable" changes to freedom of movement rules.
'Tougher stance'
Mr Miliband was also joined by the Shadow Home Secretary Yvette Cooper who called for the re-introduction of finger printing for those migrants who try to come to the UK illegally from Calais.
This by-election was triggered by the defection of the Conservative MP Mark Reckless to UKIP. David Cameron knows how important it is for the Tories to retain this seat and he too has promised a tougher stance on immigration too but he insists the Conservatives will not echo UKIP's tone on the issue.
With all of the party's focussing on immigration it may surprise some that the latest opinion poll suggests UKIP is 13 points ahead and on course for victory in next month's by-election.
The Conservatives will announce tonight which of the two candidates - Kelly Tolhurst and Anna Frith - has been chosen to fight the seat.
David Cameron will hope that whoever it is will be able to stop UKIP's bandwagon and prevent the party gaining its second seat at Westminster.