Kent patient at 'high risk of death', ombudsman finds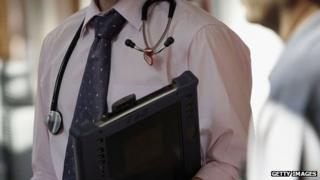 A 72-year-old woman who had to have her leg amputated after a clinical error was at "high risk of death", the NHS ombudsman has revealed in a report.
Dame Julie Mellor found the patient was wrongly refused readmission to hospital by a junior doctor working for the East Kent Hospitals NHS Trust.
The trust apologised and paid the woman £2,000 in recognition of the distress, pain and unnecessary risk caused.
It was among 161 complaints examined by the ombudsman across England.
The NHS ombudsman is the final stage of complaint for patients unhappy with a hospital's original handling of a grievance.
'Devastating impact'
A report by the Parliamentary and Health Service Ombudsman has published summaries of the investigations it carried out between April and June this year.
Among them are six failings in the health service investigated in Kent and Medway.
In another case involving the East Kent Hospitals NHS Trust, an 84-year-old patient was wrongly discharged to an empty house in a confused state, with no medication and a catheter still in place.
The trust accepted that the discharge was inappropriate and made recommendations to learn lessons or draw up an action plan.
The report also focused on a case involving Medway Community Healthcare (MCH) in which a young patient who had suffered a brain injury as a result of an illness had her weekly physiotherapy sessions reduced to monthly.
MCH apologised and paid £1,022 to recognise the fortnightly physiotherapy that had not been provided.
Dame Julie said the cases had a "devastating impact" on the lives of individuals and their families.