Port of Sheerness expansion plan jobs boost unveiled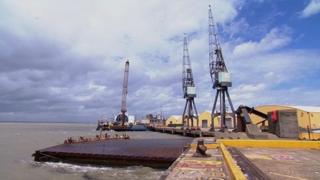 Plans to build a rail freight link between the Port of Sheerness and Liverpool, which it is claimed would create 1,250 jobs, have been unveiled.
Peel Ports Medway wants to transport vehicles for import and export between Kent and the North West, as part of its 20-year development plan.
Sheerness handles about 1.3m tonnes of cargo annually, including about 330,000 vehicles last year.
Peel Ports wants to increase its cargo turnover to 3.1m tonnes by 2034.
It claims the rail freight link and expansion of Sheerness would create 1,250 direct and indirect jobs.
---
Analysis
Mark Norman, BBC South East business correspondent
Sheerness port has more than 300 years of history as a naval dockyard, a ferry terminal and a cargo port.
But this is a first; a 20-year masterplan for its future that includes more port facilities, improved rail links and the preservation of its historic buildings.
One of the significant parts of this document is the plan to reclaim land from the sea to expand the port and create a mixed housing development and a marina.
---
As well as Sheerness, the firm operates ports in Belfast, Dublin, Glasgow, Heysham, Liverpool and Manchester.
Peel Ports will hold a number of public consultations with residents, after it has revealed full details of its plans on Wednesday.
Director of the Port of Sheerness, Miles Hearn, said it was the company's "long-term ambition to remain a key employer and driver for sustainable growth in the Swale region".
Conservative MP for Sittingbourne and Sheppey, Gordon Henderson, said: "I am extremely pleased to see Peel Ports' future strategy for Sheerness and I welcome their decision to share the ideas with local residents and other stakeholders."