Canterbury doctor sued over tummy tuck operation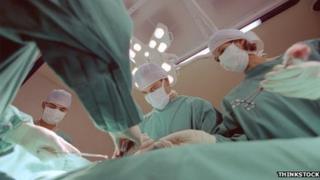 A woman is suing a cosmetic surgeon over scarring and burning pain after a tummy tuck operation.
Irene Packham, from Sandwich in Kent, consulted Anita Hazari at the Chaucer Hospital in Canterbury over excess skin and stretch marks caused by pregnancy.
Ms Packham, 47, told the High Court she had not been told of the possible consequences of the surgery.
She said she had been advised the scarring would be hidden below the bikini line.
The court was told if Ms Packham had known what would happen she would not have consented to the operation at all, or would have agreed to having less major surgery, which would have avoided leaving a visible vertical scar.
She said she had also been left with the pain of a trapped nerve after the surgery in September 2009.
'Pulling and burning'
Ms Packham said: "I said 'you have done something different, I want you to explain what you have done'.
"When you know something is different to what has been discussed... I wanted an explanation and she [Ms Hazari] wouldn't give it to me."
Ms Packham is claiming £20,000 damages for pain and suffering and about £30,000 for help she needed around the home because of her chronic "pulling and burning" abdominal pain.
Lawyers for Ms Hazari said Ms Packham was shown pre-operation and post-operation diagrams and photos before the surgery, which showed a vertical scar running up from the abdomen, and she had been told about it.
The court was told Mr Hazari had also discussed the risks of the surgery, including the risk of scarring, and had sent a letter to Ms Packham's GP, and they were listed on the consent form which the patient had signed.
The hearing is due to last three days.